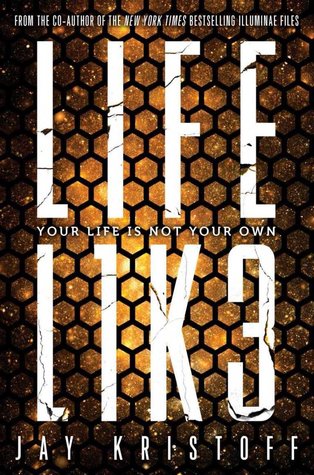 LIFEL1K3 (Lifelike, #1) by Jay Kristoff
Genre: Dystopian, Sci-Fi
Pages: 398
On a floating junkyard beneath a radiation sky, a deadly secret lies buried in the scrap.

Eve isn't looking for secrets—she's too busy looking over her shoulder. The robot gladiator she's just spent six months building has been reduced to a smoking wreck, and the only thing keeping her Grandpa from the grave was the fistful of credits she just lost to the bookies. To top it off, she's discovered she can destroy electronics with the power of her mind, and the puritanical Brotherhood are building a coffin her size. If she's ever had a worse day, Eve can't remember it.

Read More

But when Eve discovers the ruins of an android boy named Ezekiel in the scrap pile she calls home, her entire world comes crashing down. With her best friend Lemon Fresh and her robotic conscience, Cricket, in tow, she and Ezekiel will trek across deserts of irradiated glass, infiltrate towering megacities and scour the graveyard of humanity's greatest folly to save the ones Eve loves, and learn the dark secrets of her past.

Even if those secrets were better off staying buried.
5 Bloody Stars
I received an ARC of this book at Book Nerd Prom at Yallwest.
Before we dive into my thoughts, I'd love to set the scene and world of this book for you and all of the wondrous things that Kristoff decided to include, because this was perfection from the beginning.
This book takes place on the west coast of what used to be the Yousay (USA) in Kalifornia (California). The once nation fell apart after World War 4.0, and a massive bomb destroyed areas such as Zona (Arizona) and NeoMex (New Mexico). This bomb turned most of the sand in the area to glass, so when thunderstorms occur, the storms pick up the glass. Glass storms. Yep. Not to mention that people can barely go outside, even if they are nowhere near these storms. That's because the temperature has risen so much, and there is so much pollution and radiation, that cancer of many forms is commonplace.
Kalifornia is now an island, and the waters are polluted with trash and oil and everything else. All food is highly processed and comes out of cans, water is desalinated from the oceans and rarely clean, and the districts of Kalifornia are literally defined by the type of trash that is there. Tire Alley. Fridge Street. Engine Road. The nation as it stands now is run by two major corporations that are basically judge, jury, and executioner. The only semi-lawless land is Kalifornia since it's basically a trash island that no one wants to claim. The lesser-wealthy areas on the mainland are built on the bones of previous generations using materials like old shipping containers.
Do you see how all of this is brilliant? This is the kind of sly, slap in the face dystopian novel we Americans need. Pollution, waste, the loss of a language and the loss of a history, consumerism. This doesn't even include anything about cyborgs, or religion (which plays an interesting role), or artificial intelligence.
Your body is not your own.

Your mind is not your own.

Your life is not your own.
Outside of the outstanding world building, I was honestly surprised at how much I ended up loving this book. For the first 75% of this book, I was leaning towards a 4 stars. I was loving all of the discussions on what it means to be human – are we defined by biology, or emotions, or something else entirely? But up to this point, I wasn't really in love with the characters. Well, I wish I could slap some sense into myself because the last 100 pages shook me to my very core.
I am normally pretty good at guessing endings – meaning that I usually think about or map out potential outcomes in my head and one of them usually ends up being right. Not to mention that most authors tend to take the easy way out – no death, no destruction, and everyone ends up happy. Granted, this is the first book in a series, so it all wouldn't end up perfect regardless.
But enter Kristoff, a man who is not afraid to tear your heart out. I won't tell you how he does it… but he does. More than once. Not to mention that the ending was filled with twist after twist after twist. My jaw dropped and remained dropped for the last 50 pages. I was shook. shook. shook. shook. shook. The ending was outstanding. The characters were all really well-rounded at this point, and I think the ending will probably shock readers more than it shocked the characters.
I have chills right now thinking about the ending. How many more adjectives can I find to describe it? Don't test me.
You know, democracy sounds like a great idea until you spend three minutes with the average voter.
It's hard for me to comment on the romance knowing what I know now. I would love to reread it to get a better sense. Even though the romance isn't healthy, and Kristoff hopes that's apparent, it's really well written and discussed. Click here to hear Kristoff talk about this relationship some more and how it's semi-unhealthy (spoilers regarding who the relationship is between and minor spoilers otherwise). I love the way the romance plays out, and I also love where the romance stands at the end of the book.
Here is my only issue with this book (and I have now realized, with most of Kristoff's books) – I don't care for the excessive comedic relief. Kristoff's books are always funny, and the comedic relief is definitely needed, but I feel like the characters that are the comedic relief sometimes take it too far to be believable. While I love all the vulgar jokes and swearing (because trust me, I do that too), they are frequent to a point where it feels disingenuous or forced. But that could also be my Type A seriousness coming out and/or Kristoff's Aussie nature. This definitely improved over the course of the novel as the comedic relief (Lemon) started to grasp the severity of the situation. Her comedic relief in the last 100 pages was genuine and appreciated.
It was okay to be afraid.
You just couldn't let that fear stop you.
If you loved the voice and action and spirit of The Illuminae Files, enjoy dystopians, or like discussions regarding Artificial Intelligence, I highly recommend you check out LIFEL1K3! This story blew my socks off and I can't wait for it to enter the world!
---
LIFEL1K3 comes out tomorrow, May 29th, 2018. There is an awesome pre-order campaign here that I highly recommend you check out before it's too late!
Thanks to the Penguin Random House team for providing ARCs of LIFEL1K3 at Yallwest! I'm so happy to have received a copy.